PotterCast 134: Rawffle!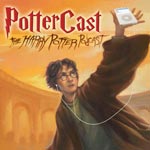 Jan 18, 2008
Uncategorized

Melissa is back to her regular spot next to Sue and John in this week's PotterCast, our Harry Potter podcast in which we are joined by a large number of staffers to speak about the latest rumor regarding the "Harry Potter and the Deathly Hallows" film. Passing the mic around, we all take turns giving our take on this news and theorizing as to the possible outcomes. In the news we discuss the latest nominations and wins for Harry Potter actors in various ceremonies, Emma Watson's diary entry on filming her first scenes for "Half-Blood Prince," and the rumors about a two-part "Deathly Hallows" film as well as its possible director. We also have some new essay talk from our Scribby 5 girls as well as updates regarding our PotterCast Acting Troupe auditions. To listen, just hit the "Play" button on the right side of the page (–>), or use iTunes, or direct download.
"Rawffle"
– Leaky Staffcast! A couple dozen leaky staffers take the mic this week in New York to sound off on the rumor of splitting "Deathly Hallows" into two movies.
– The Rotfang conspiracy.
– How many times will Rupert get book-whacked on the head in HBP?
– The Trio's take on the Writer's Guild strike.
– Del Toro and Cuaron team up for DH?
– Drolling over Phoenix in high-def Blu-ray.
– Moochka Pinatas take over Melissa's book party!
– Scribby5: A Neville Essay from Scribby author, Linda.
– PotterCast acting troupe audition update!
– PotterCast ending in July 2008?
RT: 1:11:36
Editor: John Noe
Scribbulus
Podcast Alley
Digg
Terminus 2008
Direct download (33 MB).
Direct download low-bandwidth (8 MB).
Remember you don't need an iPod to listen. Listen easily on iTunes, which you can download and install here, by clicking here to listen, or you can just use the streaming Flash player at PotterCast.com or just on the right side of this page. Discussion of the PotterCast is right here. Enjoy!