New Tonner Snape,Cho Chang Dolls, New NECA "Half-Blood Prince" Action Figures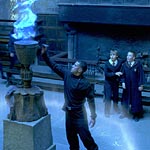 Jan 23, 2008
Uncategorized
We have a few bits of news tonight regarding new products tied in with the release of the upcoming Harry Potter and the Half-Blood Prince.
First, Tonner, the makers of high end collectible dolls, has announced new additions to their Harry Potter line, as new Severus Snape, Cho Chang and Kreacher dolls are due later this year. Molded in the likeness of actress Katie Leung, the Cho Chang doll is dressed in her school uniform, including her Ravenclaw robe and her wand. The Professor Snape doll, which is based on actor Alan Rickman who so memorably portrays the Potions master in the Harry Potter movies, will be "dressed in an authentic reproduction of his signature costume from the film. His costume includes a cotton high-collar shirt, chiffon neck scarf, tunic jacket with mandarin collar and button detailing, matching slacks, socks, faux leather slip-on boots, and full-length professor's robe." Of Kreacher, the description of the 10 inch tall house elf doll reads "Kreacher assures his mistress of the house that all the filthy traitors have left 12 Grimmauld Place." How lovely 😉 We will update you once these items become available.
Also, NECA, who hold the North American license for the Harry Potter products, updated their Myspace page with plans to release new Harry Potter and the Half-Blood Prince action figures and more this fall. Stating again the new Lucius Malfoy, Bellatrix Lestrange and a casual dressed Harry Potter holding the prophecy globe are due to be shipping to stores later this month, reps from NECA also said that five more figures are completed, with work on the new HBP sculpts due to begin soon. In an earlier interview with Toy Fare, reps for NECA said "Just to get people excited, we've started sculpting a Kreacher house-elf that may not see release until the Half-Blood Prince assortments. We may pack him with another elf like Dobby, since they're half the size of a regular figure."
Thanks to all who emailed!