New Photos, Interview with Alan Rickman at Sundance Film Festival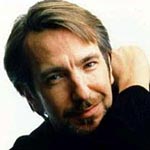 Jan 25, 2008
Uncategorized
Actor Alan Rickman recently attended the Sundance Film Festival to promote his new film "Bottle Shock," and we have new photos of the actor here in our galleries. As we reported last November, Alan Rickman was set to begin filming on Harry Potter and the Half-Blood Prince next month, and in very brief interview with Entertainment Weekly, Mr. Rickman again confirms this. He also mentions why he will not discuss his character of Severus Snape who has a such a pivotal role in the sixth Harry Potter film.
AR: "Before you go any further, I never, ever talk about that character. Number one, because it's not fair on kids who haven't read to the end. And for me to say anything " there's a bit of it that just should be left innocent. It's real storytelling, what she's done, and I'm part of that. So I just never talk about it….
EW: It's a bigger part for you this time.
AR: "Ahh…. There's important stuff. [Smiles]
As readers will recall, during the PotterCast interview with Harry Potter author J.K. Rowling, Jo discussed Alan Rickman and his performance as Professor Snape, saying she told him at the very early about key plot points involving his character and "he was the only person who knew that for a long, long time." You can read more about this (book seven spoilers) via the transcript of the interview, here.