Lexicon Dispute Update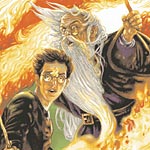 Jan 05, 2008
Uncategorized
We last told you that the WB/JKR vs. RDR Books case, in which WB and JK Rowling are suing a Michigan publisher over its attempts to publish a print version of The Harry Potter Lexicon, would next be updated on January 7, this coming Monday, when WB/JKR file their full petition for an injunction on publication. That date has now been changed to January 15. The change accommodates "various schedules," according to WB's lawyers.
The schedule is now:
January 15: WB/JKR file their "principal menmorandum of law and supporting papers."
Febraury 5: RDR Books will submit its opposition and supporting papers
February 15: WB/JKR will file a reply on RDR Books' opposition
February 28: Hearing will occur to decide on WB/JKR's motion for an injunction.
We hope to have more information about this case over the weekend; in the meantime, the Stanford Law Group has joined the fray on RDR's side, and other small details have emerged: There have been several documents filed arranging permissions for the Stanford Lawyers to practice in this case, which is filed in New York (this all seems standard and procedural). On Nov 28th, two letters from Dale Cendali (lawyer for WB/JKR) and one from David Hammer (lawyer for RDR) indicate that an attempt for a "discovery conference" was made and failed because parties have been "unable to agree to a discovery schedule in this case, or to resolve any of the preliminary issues raised." These letters have been summarized but not posted publicly.
J.K. Rowling also discussed the writing of her encyclopedia on our Harry Potter podcast, saying that she absolutely intends to publish her own version, proceeds to go to charity, though it may be several years before she does so. "It's about doing the absolute definitive, giving-people-everything guide," she said.
You can read this article for a brief on the case so far against RDR/the Lexicon, the latter of whom is a partner site of the Leaky Cauldron.