Awards Updates: Golden Globes and More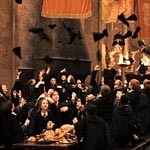 Jan 07, 2008
Uncategorized
We have several pieces of news regarding various film awards and the Harry Potter films and cast.
Last month we told you several actors from the Harry Potter films had been nominated for the Golden Globe awards. Due to the ongoing writer's strike, the Screen Actors guild issued a statement indication their members would not be attending the awards. As such, Reuters is reporting today the NBC network has been considering the option of not broadcasting the awards on January 13, however last minute negotiations are underway to try a work out a deal that would allow the actors to attend the ceremony. As we know many were hoping to catch glimpses of the actors at these awards, we will update with more on this situation when can.
Over the weekend, the National Society of Film Critics named Julie Christie (Madam Rosmerta) as "Best Actress" for her role as a woman suffering from Alzheimer's disease in the film "Away from Her." Congratulations Julie!.
In a curious twist, "Harry Potter and the Order of the Phoenix" was nominated recently by the Visual Effects Society for "Outstanding Visual Effects in a Visual Effect Movie," however "Order of the Phoenix" was not among those shortlisted for an Oscar this year, marking the first time a Harry Potter movie was not shortlisted for the visual effects Academy Award. The entire list of Academy Award nominations are due to be announced Tuesday, January 22 in LA.
The British Academy of Film and Television Awards issued a "longlist" of films being considered for nomination this year, and included Harry Potter and the Order of the Phoenix in a number of categories. These include "Best Adapted Screenplay," "Makeup and Hair," "Special Visual Effects," "Sound," "Costume Design," and "Production Design." Please note these are not the final nominations which are due to be announced next week.
Finally, a reminder OotP has been nominated for a Broadcast Film Critics Award in the "Family Film" category, with these awards due to be presented tonight. The awards program will air tonight on cable channel VH1 at 9pm (Et)