PotterCast 133: The Bard's Tale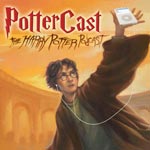 Jan 08, 2008
Uncategorized

PotterCast, our Harry Potter podcast is here for our first regular show of 2008 including a Jo Outtake of the Week. Sue and John are your hosts this week and are joined by two of our Leaky Senior Staffers, Super!Alex and Nick R., for a discussion of some of the latest happenings in the fandom including: the auction of the Beedle the Bard as well as the recently aired ITV documentary on J. K. Rowling. In addition to this, comments made by director Guillermo del Toro about his taking the helm of the final Potter film and updates on the "Half-Blood Prince" filming are on our minds as well. To listen, just hit the "Play" button on the right side of the page (–>), or use iTunes, or direct download.
"The Bard's Tale"
– No Melissa, but Nick R. and Super!Alex join us for our 133rd episode.
– What have we learned about the ˜Potter Park' from Jo's ITV documentary?
– Does the wizarding world wait in line at midnight for new Beedle stories?
– What about the other 25 Beedle the Bard stories?
– Get your wand at Ollivander's?
RT: 57:41
Editor: Stede Bonnett
Scribbulus
Podcast Alley
Digg
Terminus 2008
Direct download (27 MB).
Direct download low-bandwidth (7 MB).
Remember you don't need an iPod to listen. Listen easily on iTunes, which you can download and install here, by clicking here to listen, or you can just use the streaming Flash player at PotterCast.com or just on the right side of this page. Discussion of the PotterCast is right here. Enjoy!