Game On! New Harry Potter Clue, Hogwarts House Cup Games Available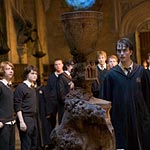 Oct 03, 2008
Uncategorized
With the holidays just around the corner, we have news today that two new Harry Potter board games are now available in our Cauldron Shop. First up, the new Harry Potter edition of the popular Clue game. The game is described by Hasbro, the makers of the board game as follows:
Dark magic has been performed at Hogwarts! A fellow student has vanished from the famous School of Witchcraft and Wizardry"and it is up to you to solve the mysterious disappearance. Play as Harry, Ron, Hermione, Ginny, Luna or Neville and try to discover WHO did it, WHAT spell or item they used, and WHERE the student was attacked. Was it Draco Malfoy with a Sleeping Draught in the Owlery? Move around Hogwarts making suggestions- but watch out! Wheels on the board actually move to reveal secret passages, hidden staircases, and even the Dark Mark! Think you've gathered all the facts you need? Go to Dumbledore's office to make your final accusation to win the game!
Also new and in stock is the Harry Potter Hogwarts House Cup Challenge Game from NECA. This new board game, which we saw previewed at Comic-Con over the summer, is described as "Test your knowledge and skill with this Harry Potter Hogwarts House Cup Challenge Game. This game allows 2 – 4 players to portray Harry, Ron, Hermione and Neville in their quest to win the House Cup for Gryffindor. Players move their characters around the board encountering Adventure Cards and increasing their Knowledge, Skill and Honor. As the Characters' abilities grow, they face harder challenges based on the first five Harry Potter films. For 2-4 players. Ages 9 and up."
You can see some additional images of these board games, courtesy of Boardgamegeek.com here in our Image galleries.