Harry Potter Costume Contest Launches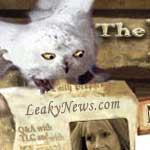 Oct 02, 2008
Uncategorized
As it is now October, a slight crispness in the air signals that Halloween is almost upon us. In order to get in the spirit of the holiday, our Leaky Contest Crew has paired up with our Crafty Witches and has come up with a new contest which we are launching today. The Harry Potter Costume Contest asks you to create a costume of any Harry Potter character, magical creature, wizarding community member, or theme from the Harry Potter novels. Costumes may be made from scratch or pieced together utilizing commercially made products. Creativity and attention to detail rule the day! The designers of the top three costumes will receive a custom made wand from Wizard Wood Wands as their grand prize.
Further information regarding the guidelines for homemade and commercially constructed costumes can be found at this link. Please submit to us via [email protected] up to two images in jpg, .png, or .gif format of your costume by Sunday, November 2, 2008 at 11:59 pm (EDT). Be sure to include in the email the subject line "HP Costume – commercial" or "homemade," along with a name which you'd like to be identified by. As with all of our contests, anyone not involved in the judging process over the age o 13 may submit up to one entry. All work and photographs should be PG13 appropriate and adhere to standards of decency and good taste. Full information on this and all of our contests can be found over on our Contest Page and in the Contest area of our Leaky Lounge forum.
Good luck to all who enter! Make it work!