Robert Pattinson Set to Receive 'New Hollywood Award' at Hollywood Film Festival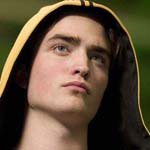 Oct 07, 2008
Uncategorized
Actor Robert Pattinson (Cedric Diggory) is set to be honored at the upcoming 12th Annual Hollywood Film Festival and Hollywood Awards which recognizes the achievements made by actors in new films, or based on their body of work. MediaBistro is reporting that Mr. Pattinson will being honored with the New Hollywood Award at the ceremony. Readers will remember that in addition to playing the character of Cedric Diggory in the Harry Potter films, Mr. Pattinson is set to play Edward Cullen in the upcoming "Twilight" film. Actors Ben Stiller, Marisa Tomei, and the cast of "The Secret Life of Bees" are also set to receive recognition at the upcoming film festival and awards ceremony. Carlos de Abreu, Executive Director of the Festival, said the following of Mr. Pattinson being included in the recent announcement:
"It is an honor to recognize the great work and talent of Ben Stiller, Marisa Tomei, the principal cast of 'The Secret Life of Bees' and Robert Pattinson at this year's festival."
The gala and ceremony is set to take place October 27th, at the Beverly Hilton Hotel in Beverly Hills, California. Many congratulations, Robert!