PotterCast 168: Expelliarmus!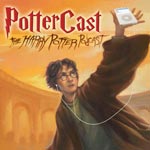 Oct 08, 2008
Uncategorized

The newest episode of PotterCast, our Harry Potter podcastis now online for your listening pleasure. Our 168th episode starts off with Sue's News which includes information on a 100-year-old printing press for "Deathly Hallows" film, new/old behind the scenes photo shoots with Jo Rowling and Stephen Fry, two new Harry Potter games, additional scans from "Half-Blood Prince" calendars, and new lithograph prints. Canon Conclumdrums follows with a new discussion on a topic from Melissa's interview with Harry Potter author J. K. Rowling for her upcoming book, "Harry, A History." This week the PotterCasters talk at length about the epilogue and respond to Jo's reasons for choosing the path she did for Harry Potter. The PotterCasters then wrap it up with info on Melissa's Walk for the Cure, some Witches who WRock, and we give you an update on our Acting Troupe. To listen, just hit the "Play" button on the right side of the page (–>), or use iTunes, or direct download.
"Expelliarmus!"
– 100-year-old print press saught for Deathly Hallows film.
– New artwork from Art Insights: Full lithograph prints from books 4 and 5.
– Snape bothers our listeners.
– The quartet discuss the epilogue.
– JKR talking of the epilogue.
– A simple boy, a simple man.
– Moochka in a little ball.
-The Breast Cancer Awareness Walk with HP elements.
– Witches who Rock.
– Acting Troupe Update.
RT: 44:39
Producer: John Noe
Additional Editing: Andrew Garner
LeakyCon 2009: A Harry Potter Conference in Boston
"Harry, A History" Website
Podcast Alley
Digg
Direct download (25 MB).
Direct download low-bandwidth (9 MB).
Remember you don't need an iPod to listen. Listen easily on iTunes, which you can download and install here, by clicking here to listen, or you can just use the streaming Flash player at PotterCast.com or just on the right side of this page. Discussion of the PotterCast is right here. Enjoy!