PotterCast 172: The Subway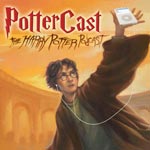 Nov 11, 2008
Uncategorized
The 172nd episode of PotterCast, our Harry Potter podcast is now online (along with an entire new week of vlogs) with the start of our three part series where we examine Harry Potter author J. K. Rowling's The Beedle the Bard stories prior to its release. As always, Sue starts off the show with the latest news, which includes bits of information from the actors about the Deathly Hallows film, Mamma Mia overtaking the Harry Potter film at the British Box Office, David Heyman speaking about the Half-Blood Prince film, and our very own Melissa appearing appearing on the cover of USA Today for her now released Harry, A History. Next, the first installment of Beedle Talk features the Quartet discussing The Wizard and the Hopping Pot and The Fountain of Fare Fortune stories. This segment goes into detail about what is known about the stories as well as the Beedle the Bard book as a whole. The show wraps up with a Subway story from New York, registering for LeakyCon, Melissa's guacamole recipe, and more about the PotterCaster's Vlogs. To listen, just hit the "Play" button on
the right
side of the
page (–>), or use iTunes, or direct download.
"The Subway"
Actors talk about Deathly Hallows.
Mamma Mia is number one.
It's John McCain, Barack Obama and Melissa Anelli.
A barrel of guacamole.
128 pages and 5 stories.
Easy fairy tale writing.
The Subway.
LeakyCon! Food Programming?
PotterCast VLogs!
RT: 65:16
Producer: John Noe
Editors: Stede Bonnett and Andrew Garner
LeakyCon 2009: A Harry Potter Conference in Boston
"Harry, A History" Website
Podcast Alley
Digg
Direct download (30 MB).
Direct download low-bandwidth (8 MB).
Remember you don't need an iPod to listen. Listen easily on iTunes, which you can download and install here, by clicking here to listen, or you can just use the streaming Flash player at PotterCast.com or just on the right side of this page. Discussion of the PotterCast is right here. Enjoy!