LeakyCon Proposal Submissions Open!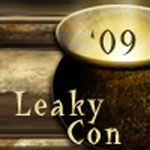 Nov 16, 2008
Uncategorized
Today LeakyCon, our fan conference set for Boston, MA, next May (21-24), has opened submissions for presentations and programming.
If you have an idea on a topic of Harry Potter canon; an idea for a presentation on a character, theme, moral, or event from the series; a tutorial on a particular Harry Potter creation; or even your own personal, unique story related to the Harry Potter series, we want to hear it. To submit your programming ideas, choose from the options listed below to provide us with an idea of what you have in mind. By filling out this short form, you will be giving us information on the presenters, the type of presentation you are planning, and everything you will need make your presentation perfect. The deadline for submitting your proposal is February 1, 2009.
The programming for LeakyCon is divided into three different tracks: Academic, Informal, and, a first for any Harry Potter conference, Youth. Academic Programming will focus on book canon and presentations centered on enlightening and inspiring others. Informal Programming will feature programming on lighter subjects and bring more lightheartedness and fun to our conference. Youth Programming will be geared specifically to those attendees who are between the ages of 14-18, providing them with presentations and programming specific to their interests while fostering an environment of community involvement. If you have an idea, lecture, programming thesis, or activity that could fit into one of our LeakyCon programming tracks, please click here to start the submission process for ACADEMIC programming, or click here for INFORMAL or YOUTH programming.
LeakyCon 2009 aims to bring together all aspects of the fandom for a weekend of fun, learning, and, above all, giving back. All proceeds from LeakyCon 2009 will benefit Book Aid International and the Harry Potter Alliance, two charities close to our hearts and who have worked tirelessly in the previous years in the fandom. Information on this aspect of our conference, along with everything else LeakyCon related, can be found on the LeakyCon website.
As a reminder, registration for LeakyCon 2009 is open and can be purchased via this link. Registrations are going quickly, so do not wait to reserve your spot at The Leaky Cauldron's first ever Harry Potter fan conference today. Discounts on registration are currently available as well; complete information can be found right here. Stay close to Leaky for the latest news from LeakyCon 2009.
See you there!