ABC Family to Show HBP Exclusives During "Goblet" World Premiere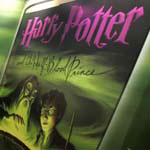 Nov 24, 2008
Uncategorized
During the weekend of December 5 through 7, as ABC Family debuts Harry Potter and the Goblet of Fire on television, the channel will also reveal several never-before-seen clips, behind-the-scenes footage and cast/crew interviews of Harry Potter and the Half Blood Prince.
Over three days the channel will intersperse interviews with Dan Radcliffe, Rupert Grint, Emma Watson and Michael Gambon. They will also give an overview of the film. The footage will show "love running rampant through Hogwarts, a look into Tom Riddle's past and an introduction of Hogwarts' new Defense Against the Dark Arts teacher, Professor Horace Slughorn."
Goblet will feature deleted scenes as part of the broadcast.
The schedule is as follows:
Friday, December 5:
Harry Potter and the Sorcerer's Stone, 7:30 pm ET.
Saturday, December 6:
1:30 pm ET: Harry Potter and the Sorcerer's Stone
5 pm ET: Harry Potter and the Chamber of Secretsv
9 pm: Harry Potter and the Prisoner of Azkaban
Sunday, December 7:
12:30 pm ET: Harry Potter and the Chamber of Secrets
4:30 pm ET: Harry Potter and the Prisoner of Azkaban
7:30 pm ET: Harry Potter and the Goblet of Fire