Dan Radcliffe on "Deathly Hallows" film, "Equus" Run, and More in New Interviews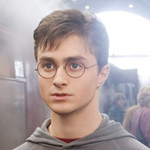 Nov 28, 2008
Uncategorized
There are two new clips online this evening thanks to DanRadcliffe.com from cable network E! programming that feature actor Dan Radcliffe (Harry Potter) discussing a number of subjects, including his role in the play Equus, the upcoming filming for Harry Potter and the Deathly Hallows, a recent auction of a pair of jeans from his role in Equus, and his thoughts on Harry Potter co-star Robert Pattinson (Cedric Diggory), who is now enjoying much fanfare in the Twilight films. First, in this clip from the Daily 10, Dan discusses his role as Alan Strang in the play Equus and relates his feelings about the kind of influence performing on stage can have on budding actors. The young actor then goes on to talk about what it will be like filming the Seventh Film after spending nearly half of his life on the Harry Potter set and of actor Robert Pattinson in regards to his recent Twilight fame. The second clip features Dan talking about the auction of a pair of jeans worn by him during the run of Equus, as well as other articles of clothing donated from his stage wardrobe.
As readers will remember, Dan, along with fellow Potter actor Richard Griffiths (Uncle Vernon), are currently in the Broadway revival of Equus at the Broadhurst Theater in New York City. More information on performances and tickets can be found at the official website.
Thanks to our Order partner DanRadcliffe.com!