Leaky Cauldron's November Event Round Up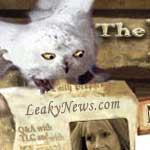 Nov 04, 2008
Uncategorized
As it is now a new month, we have a host of new activities going on all over The Leaky Cauldron. We have today the opening of two new book clubs, a communal holiday crafting event, and a brand new contest to bring you.
First up, our Harry Potter Book Club has started to read the sixth book in author J. K. Rowling's series, "Harry Potter and the Half-Blood Prince." Relive the magic of Harry's sixth year at Hogwarts as you read deeper into the novels and discover moments from the book you may have missed before. Our Non-Harry Potter Book Club is doubling the fun in Jo's Book Nook, with the reading of two novels from the Chronicles of Narnia series: "The Horse and His Boy" and "Prince Caspian." Join your fellow Loungers to read these enchanting novels by author C.S. Lewis. Both of these book clubs opened their doors on Saturday, so do not delay in stepping in and reading along with your fellow Lounge members. If you are not yet a member of our Leaky Lounge forum, please register here.
Next, as the holiday season is approaching us, our Crafty Witches have launched their latest Craft-Along Event. Join us at TLC in making these beautiful Christmas Ornaments, instructions and tutorials for which can be found here. A gallery of completed ornaments are available as well. To keep with the holiday spirit of giving, we at TLC will also be sending our ornament crafts to our own Project Coordinator Doris who was effected by Hurricane Ike earlier this year. If you wish to join us in sending Doris one of your crafty creations, an address will be given shortly via this link to do so. Help and support for the thousands of people effected by Hurricane Ike can be given in a multitude of other ways, such charities as the Red Cross or Project C.R.A.Y.O.N., which have been helping many in the areas most ravaged by the storm. This crafting event lasts through December 1.
Finally, our Contest Crew has then been working hard on bringing you their November Contest, which asks you to write your own 600-word or less story about how the Fat Friar became a ghost at Hogwarts. This gives those interested a chance to write their own "Hogwarts: A History" entry for all to see. All work must be original and be consistent with traditional Harry Potter canon. As with all of our contests, an individual over the age of 13 and not part of the judging process may submit one, original, PG-13 appropriate work for consideration. All submissions must be received by November 30th by 11:59pm EST via [email protected]. The first place winner of this contest will receive their very own custom made wand courtesy of Wizard Wood Wands. Complete information can be found on the Contest Page as well as on the Leaky Lounge.
Good luck to all who enter!