Tom Felton On Draco in "Half-Blood Prince" and "Deathly Hallows" Films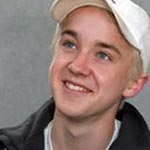 Nov 04, 2008
Uncategorized
The third part of an interview with Harry Potter actor Tom Felton (Draco Malfoy) is now online from our friends at Feltbeats.com. In this interview, Mr. Felton discusses more about his character in the films, as well as his experience while filming of the sixth film, "Harry Potter and the Half-Blood Prince." In addition to this, Mr. Felton also speaks breifly about the upcoming "Deathly Hallows" film. In regards to showing a 'more in-depth' Draco Malfoy in "Half-Blood Prince, "Mr. Felton relates his happiness, and goes on to say:
"When David Yates dragged me [aside] at the beginning of it and said,
"I have full faith in you' yadda yadda, and I hope that you're going
to embrace the role and so forth. And I was fairly terrified. We did a
read-through with Michael Gambon, and I was petrified at the thought of
the final scene.
"But after that, I guess I sort of learned a lot on the set, and
David Yates was really my motivation. He was very, very, complimentary
of everything he saw and very good with direction. He knew exactly what
to say to get the results he wanted. And what the producers saw, they
were very, very happy as well. And that sort of spurred me on even
further. And, it was great fun. I really, really enjoyed it more than
any other film, without a doubt. Sort of, embracing the role, if you
will, and making the most of it."
Additionally, he speaks to his being able to show a different side of Draco:
"It was great; it was probably the most exciting thing about playing
the character this year. Obviously, he was a little bit two-dimensional
in previous films. He was just a rather spiteful git for the sake of
it; whereas in this film you get to see why he's a bit of a git because
of his father and his upbringing and so forth. You get to see both
sides, really, of his extremes ' the side where obviously his father is
away and he's trying to take on the male role and so forth.
"But equally, the pressure will get too much for him, and you'll see
a much weaker side of him. So yeah, it was great playing a bit more
versatile character, rather than just two-dimensional."
The topic of the "Harry Potter and the Deathly Hallows" film is also mentioned in this interview. He reveals that there are two scenes in particular that he is excited to film ("There's one in the Malfoy Manor and one in the Room of Requirement,") and goes on to speak of his character's relation to the Elder Wand in the final book:
"It was obviously great fun reading it. And, obviously, you try not
to, but whenever you see your name in print your heart starts racing
and you think, "Here you go. What's going to happen here?" So yeah, I'm
really looking forward to seeing my house, you know, and sort of being
in the house with Jason [Issacs] and all the other Death Eaters that I
worked with in this film, because they were all a great laugh. So that
will be fun, no doubt.
"And obviously, the big fight at the end, where I lose one of my
campadres to the fire, or summat like that. That will be great fun,
because it will be like a full-on battle scene which has been long
overdue."
This series of interviews leads up to the Tom Felton's upcoming appearance on the ITV2 show, "Jack Osbourne: Celebrity Adrenaline Junkie" on November 12th. Audio recordings of the interviews can also be found on the website.
Thanks to FeltBeats.com.