Rumor Alert: WB Planning a "Beedle the Bard" Movie ?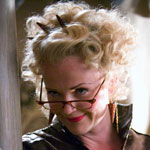 Dec 08, 2008
Uncategorized
Well, this didn't take long: the first rumors of a Tales of Beedle the Bard movie have hit the net. Just mere days after the release of the new book from Harry Potter author J.K. Rowling, CinemaBlend is reporting that Warner Brothers has "a strong interest" in making Beedle the Bard, the Movie once the Deathly Hallows films are done. The report says that :

Knowing that the magical gravy train is coming to an end, the WB is
looking for ways to squeeze more out of Potter. According to one of our
regular, reliable sources, they're hoping to do it by digging deep into
other J.K. Rowling work; specifically "The Tales of Beedle The Bard".

The article then says that WB is grappling with how to include all five tales in the book, but notes that "these are short stories after all, it's unlikely there's enough material in any one story to justify a feature film. According to our sources, Warners is still trying to figure out exactly how to make this work."
Please keep this very much in the rumor category, until official confirmation is released.
Thanks Paul and Cian for emailing.