"Half-Blood Prince" Trailer Named a Top Trailer of 2008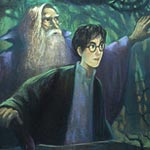 Dec 02, 2008
Uncategorized
Kicking off the Year In Review season, Yahoo! Movies now has a report online listing the Top 10 Movie Trailers of 2008 which includes the trailer for Harry Potter and the Half-Blood Prince. Coming in at number six on their list, the most recently released Half-Blood Prince trailer is ranked among such other trailers from this past year, including Iron Man, The Incredible Hulk, Indiana Jones 4, and The Dark Knight. The full list of top trailers is as follows:
The Dark Knight
Indiana Jones and the Kingdom of the Crystal Skull
Twilight
The Incredible Hulk
Iron Man
Harry Potter and the Half-Blood Prince
Wanted
Hancock
Sex and the City
Kung Fu Panda
Many thanks to our own JeffHPFan!