Live Meeting of Dumbledore's Army Tonight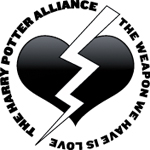 Dec 02, 2008
Uncategorized
class="entry">
Tonight at 8:30 p.m. EST, there will be a real-world meeting of Dumbledore's Army courtesy of the HP Alliance. As STANDFast (where we give up one luxury item for the day and donate that money to help people in Darfur and Burma) is tomorrow, we're getting together tonight to talk about the issues and have some fun doing it. You can listen in at 712.432.1001 (use the code 453368027# to get in on the conference call). If you ahve any problems, sign onto Skype and contact the name hpapotterwatch and Karen from the HPA will assist you.
Andrew Slack of the HP Alliance, Paul DeGeorge of Harry and the Potters, Matt Maggiacomo of the Whomping Willows, Alex Carptner of the Remus Lupins, Brenna of Wrock for Darfur, as well as Wizard Rock bands Justin Finch
Fletchley, Nagini, the Owl Post, and the Butterbeer Experience and John and I from Leaky will be discussing the various ways the Harry Potter community can come together to do something this holiday season to help those who need it most. And it's going to be a lot of fun! We hope you'll join us.