Whimsic Alley Announces Beedle Midight Plans, Leaky Coupon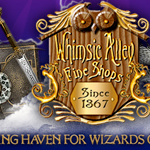 Dec 02, 2008
Uncategorized
Whimsic Alley, the Harry Potter merchandise store in Santa Monica, CA, is having a midnight Beedle the Bard event tomorrow evening: the part starts at 10pm and will have refreshments, games, contests, readings and special guests. The book goes on sale at midnight, and admission is free. George Beahm, author of Muggles and Magic and Fact, Ficton and Folklore in Harry Potter's World, will be in attendance and autographing his books. Five time Hugo award winning illustrator and former Disney Imagineer Tim Kirk will be carcaturing attendees for a fee, and has donated a special piece of artwork for a raffle. Professor Caliebrant will be on hand to entertain and demonstrate magic charms and transfiguration: Other guests are to be announced.
Also, for Leaky readers who don't live in the area, Whimsic Alley is offering a 15 percent discount on its stock: visit WhimsicAlley.com and use the code "leakywa08″ when you check out. The offer is good through 12/23, and excludes shipping and gift cards.
Whimsic Alley is at 2717 ½ Wilshire Blvd. in
Santa Monica, CA 90403. For more information, you can call 310-453-2370.