8 Million Copies of Beedle the Bard due Worldwide, Pre-Ordered Copies Now Being Shipped.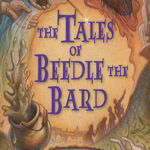 Dec 03, 2008
Uncategorized
As the hours grow closer to the release of The Tales of Beedle the Bard tonight at Midnight, many fans are anxious for the new set of tales from author J.K.Rowling. Those who have pre-ordered copies of the book have received notices stating the books have indeed shipped. One paper has a photo online of a bookseller sitting next to unopened cartoons of the Beedle books, awaiting their release. The AP is also reporting today that a total of 8 million copies of The Tales of Beedle the Bard are due to be issued around the world, including the 3.5 million copies due from US publishers Scholastic. Quotage:
"We expect it will crash straight in at No. 1 in our book charts,"
Jon Howells, of Britain's Waterstone's book store chain, said
Wednesday. "It would take a battle of magical proportions to dislodge
it before Christmas."
The book's print run sounds enormous until
you compare it with the Potter books. The final volume, "Harry Potter
and the Deathly Hallows" sold 8 million copies in its first 24 hours
and had a print run of 12 million in the U.S. alone.