New Interview with JK Rowling's First Editor Barry Cunningham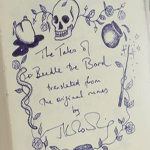 Dec 03, 2008
Uncategorized
A second handwritten copy of The Tales of Beedle the Bard was unveiled today in Edinburgh, Scotland, this belonging to J.K. Rowling's first editor Barry Cunningham. This copy will be on display at the National Library of Scotland, site of a launch day tea party event being held tomorrow. At the event, Jo will be reading from Beedle and answering questions. You can see a new photo of Mr. Cunningham with his copy of Beedle the Bard via this link.
Reuters also has a new interview with Barry Cunningham where he reflects back on first learning of Jo, and reading the first installment in the Harry Potter series.
"When I first got the book I didn't know everyone else in the
universe had turned it down, so I read it as a book and I loved it,"
Cunningham told Reuters in Edinburgh on Wednesday.
"What I really loved about it was the friendship of the children,
the support they gave to each other and the fact that they were able to
overcome so many difficulties … the adult world was against them and
they got together to overcome that."
… Cunningham added that he believed there was more to come from Rowling, despite the completion of the Harry Potter tales.
"I don't really know … I can't imagine that such a lifelong writer could stop writing."