Personal Copy of Beedle the Bard Unveiled Today in NYC, Video of JK Rowling Reading from Book at Exhibit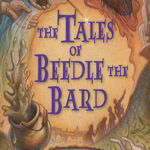 Dec 03, 2008
Uncategorized
Today, Arthur Levine unveiled his personal handwritten copy of The Tales of Beedle the Bard at an event today in New York City. Update: You can now see video courtesy of Scholastic, here in our galleries. Mr. Levine, editor of the US editions of the Harry Potter novels for Scholastic, has generously donated his copy of Beedle written personally by J.K. Rowling for public display at the New York Library. The volume will be on view from December 4 through
January 4 at The New York Public Library's
Humanities and Social Sciences Library at Fifth Avenue and 42nd
Street. At this event, which is open and free to the public, fans will be able to see the book, copies of sketches drawn by Jo, and video of the Harry Potter author and Arthur Levine both reading from the new book. The video will also be posted online tonight (12:01 December 4) at midnight via this link.
class="p">
"My feelings about BEEDLE are very personal. I remember the moment I
opened the package and saw this beautiful object that Jo had sent.
Something she'd made with her own hands and her own unique
imagination. What could an editor treasure more from his author? Only
the friendship the gift represents," stated Arthur A. Levine,
Scholastic co-editor of Harry Potter.
class="p">
"We couldn't be happier to welcome J.K. Rowling's fans to The New
York Public Library to see her latest work," said Paul LeClerc, the
Library's President. "We are also grateful to Scholastic for donating
copies of the book to all of our libraries. We hope that lovers of
Harry Potter will visit our branches, where by merely waving their
library card they can magically open the doors to all of J.K.
Rowling's tales and many other worlds of fantasy and adventure."
Please Note: While this is the only planned US exhibit of an original copy of Beedle the Bard, Scholastic will also donate
3 copies of the book to each of The New York Public Library's 87
branches, which are located throughout the Bronx, Manhattan and
Staten Island. Leaky was at this today NYC, and we will have much more very soon, so stay tuned!