STANDing Fast with Jingle Spells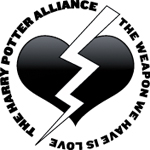 Dec 03, 2008
Uncategorized
Today is STANDFast, the day where people around the world, and many of us within the Harry Potter fandom, are giving up small luxuries in order to donate to help protect the women of Darfur and villagers of Burma. It takes three dollars to protect a woman for a month and five to protect an entire family in Eastern Burma. If you were listening to the call last night, you know that today every one of the Jingle Spells 2 albums sold will go to this fantastic cause.
So, whether you donate your coffee money or your pocket change or your time helping Darfur and Burma-related causes, or buy a copy of Jingle Spells 2 (button below), you will be helping protect those who can't protect themselves. On this eve of the publication of the next volume in the Harry Potter verse, what better way to celebrate!
Visit The HP Alliance's Web site for the event to learn more on what you can do, or to donate. Jingle Spells 2, our wizard rock holiday album, which on every other day benefits the HPA and Book Aid International, is available for purchase right here or at its information page:
BUY NOW
Buying today will aid families in Burma and women in Darfur!