Reminder: Beedle Party Tonight in NYC!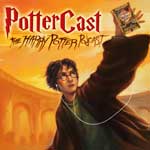 Dec 05, 2008
Quick reminder: We hope to see you tonight at our live PotterCast, in celebration of The Tales of Beedle the Bard. It is at:
Books of Wonder
18 W. 18th Street, NYC
6pm to 8pm
This will be our first live audience discussion of The Tales of Beedle the Bard. Cheryl Klein, continuity editor of the Harry Potter books in the US, will be joining us for the festivities and book discussion!
Secondly, anyone who buys a copy of Beedle from Books of Wonder today or tomorrow will be entered in a prize drawing for an exclusive, limited edition set of prints of Mary Grandpre's full-color artwork for all seven Harry Potter titles. This set has been exclusively created for Books of Wonder. The drawing will be held Friday evening just before 8 p.m.
There will also be a free HP-related giveaway to everyone who attends!
If you like, let us know you're coming by visiting our Facebook page for the event or e-mailing us at [email protected]. We can't wait to see you there! It's going to be a great time!
If you aren't able to make it be sure to log in to our BlogTV channel to watch it and participate in the discussion!