USA Today Previews GoF Deleted Scenes on ABC Family, New Interviews with David Heyman on Deathly Hallows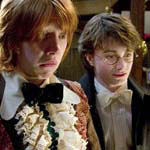 Dec 05, 2008
Uncategorized
The USA Today has posted a preview of the upcoming Harry Potter weekend on ABC Family. During this weekend, the cable channel will be airing ten extra minutes deleted from the theatrical edition of Harry Potter and the Goblet of Fire. Potter film producer David Heyman is interviewed for this piece, and said
"There were scenes that got cut in the interest
of keeping the length down that were really fun and good," says
producer David Heyman.
The deleted scenes include extended segments
with Harry (Daniel Radcliffe) and his buddy Ron Weasley (Rupert Grint)
and their respective flirtations, as well as a scene with Mad Eye Moody
(Brendan Gleeson) and Barty Crouch (Sam Hazeldine) following the
underwater sequence of the Tri-Wizard Tournament."
As we reported previously, the weekend ABC Family will be debuting new footage and interview with the cast of the upcoming Harry Potter and the Half-Blood Prince. David Heyman speaks a bit about the film, as follows:
"It's different than the other films," says
Heyman. "It's not the non-stop action that some of the others are,
although there is some action. It's more of an emotional film. We
follow multiple stories: Harry's relationship with Ginny Weasley, Ron's
relationship with Lavender Brown. ¦ There also is Hermione's discomfort
with Ron's relationship with Lavender. There's Draco Malfoy's story.
And then there's Harry's relationship with (Hogwarts headmaster and
professor) Dumbledore. We're following these multiple stories that
enrich the canvas."
And Ron discovers his newfound Quidditch talents, after thinking he had taken a good-luck potion.
"Ron is scared witless for the game," says
Heyman. " So, Harry pretends to slip him some felix felices, a liquid
luck potion.All of a sudden he's imbued with fresh confidence, and he's
remarkable in the Quidditch match. He's performing miracles. With that
comes incredible delight and maybe a little bit of cockiness."
David Heyman is also the subject of new interview with SCI-FI Wire, where he noted that pre-production on the two films for Deathly Hallows is "going well and that the decision to split the adaptation of J.K. Rowling's final book, Harry Potter and the Deathly Hallows, has allowed the actors to take a break, such as Alan Rickman (Snape).
"Well, yes, everyone's got a break, in a sense," Heyman said in
an interview on Dec. 3 in Beverly Hills, Calif., where he was promoting
the comedy Yes Man. "It's not about breaking them into two.
It's just the schedule is such that I guess it's long. There's more, so
there's a lot of downtime without him. It's going well. It's great. I'm
very, very lucky to be involved with it."