PotterCast 176: Fondling Horklumps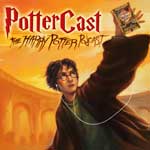 Dec 06, 2008
Uncategorized
The 176th episode of PotterCast, our Harry Potter podcast, is now online with our live show celebrating Beedle the Bard, from Books of Wonder in New
York City! The PotterCast quartet and Scholastic Senior Editor Cheryl
Klein, continuity editor on the Harry Potter books, sit down for an hour and a
half to discuss Beedle, our reactions to it, and more. To listen, just hit the "Play" button on
the right
side of the
page (–>), or use iTunes, or direct download.
"Fondling Horklumps"
Discussing the editing of the book.
Witches in magical folklore.
Why was Dumbledore writing the book in the first place.
What our favorite tales say about us.
Do Harry Potter books come out at just the right times?
Is the Three Brothers allegory?
Death as a character.
Censorship discussion throughout the Beedle tales.
John has serious questions about Animagus reproduction.
Dawlish Bounce.
Fondling Horklumps.
And more!
RT: 84:33
Producer: John Noe
LeakyCon 2009: A Harry Potter Conference in Boston
"Harry, A History" Website
Jingle Spells 2
PotterCast Vlogs
Podcast Alley
Digg
Direct download (30 MB).
Coming Soon: Direct download low-bandwidth (8 MB).
Remember you don't need an iPod to listen. Listen easily on iTunes, which you can download and install here, by clicking here to listen, or you can just use the streaming Flash player at PotterCast.com or just on the right side of this page. Discussion of the PotterCast is right here. Enjoy!