Beedle the Bard Becomes UK Fastest-Selling Book of Year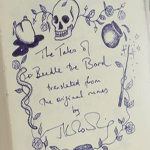 Dec 09, 2008
Uncategorized
The Tales of Beedle the Bard have become the fastest-selling book of the year in UK. The Bookseller is reporting the new book by Harry Potter author J.K. Rowling " shot straight to the top of the bestseller charts with sales of 368,000 copies in three days." The article noted that Beedle "comfortably became the fastest-selling book of the year, beating the likes of Delia Smith's How to Cheat at Cooking (Ebury), which sold 49,000 copies in 48 hours in February this year, Sebastian Faulks' Devil May Care (Penguin 007) which sold 44,000 copies in four days in June and Christopher Paolini's Brisingr (Doubleday) which sold 41,000 copies in 24 hours in September."
A rep for the Bookseller is also quoted elsewhere as saying: "None
of the other big releases managed to get near the sales figure for Beedle
the Bard. I would be very surprised if it is not Christmas number one, but
it's not a dead cert." The rep also said he felt "reports of Rowling's imminent demise in the book world were
greatly exaggerated.
"I think that this time next year retailers and publishers will be
wanting Rowling to have picked up her pen again," he said.
While this has been a strong seller so far, there is not much in the way of new information specifically about Harry and Co, as noted in the Washington Post by TLC's webmistress. "There are no new secrets to get your hands on," says Melissa Anelli, author of Harry, a History. "So there won't be quite the hysteria that there was" with the novels.
The article continues to note that there are still fans out there who are hoping there will be more from the world of Harry Potter.
"Heidi Tandy, the Miami Beach, Fla., founder of Potter fan
site fictionalley.org, hadn't allowed herself to read the epilogue of Deathly Hallows until Wednesday. As in, the Wednesday before Thursday's release of Beedle."As long as I didn't read the epilogue, I wasn't done reading her
story," Tandy explains. Thursday's release finally freed her to finish Hallows; now she'll choose a new Beedle
story not to read, until Rowling comes out with another installment.
The rest of the book she'll read with her son, who is named Harry.
The Beedle release proves that we will never truly be over Harry.
"We can't help thinking, 'One day, she might get the urge,' " Anelli says. "She just might write another book."