J.K. Rowling Receives James Joyce Award in Dublin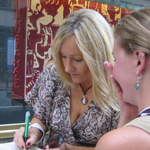 Feb 13, 2008
Uncategorized
As we reported previously, author J.K. Rowling was to receive a special James Joyce award at University College in Dublin. That event was held last night, and Irish newspaper Independent reports on the event where JKR read from Harry Potter and the Deathly Hallows, signed copies of the book, and answered questions from fans. At the ceremony, Jo received the award for her services to the written word, with the presenting literary and historical society saying:
Ms Rowling's work has fostered an appreciation of literature in millions of readers worldwide, and her imagination and creativity have captivated an entire generation."She receives the award for her tremendous contribution to the field of literature, both in terms of the quality of her work and the impact that it has made over the last decade.
In remarks during the event, JKR noted again she would be writing an encyclopedia (aka the Scottish book) on the Harry Potter series, with proceeds to benefit charity, and that while she would "never say never" to another in the series, it "would be another decade before she could ever revisit the adventures of the wizard." Jo also took ten questions from fans, where she "admitted that she had the thought of Harry dying in the early books but had changed her mind. However, when the final book was finished it was "like saying goodbye to an old boyfriend".
Thanks NimbusXL!