Award Watch: Shaw, Lynch and Craig News and More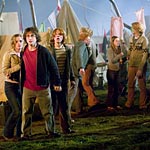 Feb 18, 2008
Uncategorized
We have a few pieces of news regarding some of the people from the Harry Potter films and various award programs.
As we reported previously, acclaimed production designer Stuart Craig was to receive a special lifetime achievement award from the Art Directors Guild. That program took place last night and you can see new photos of Mr. Craig, here. At this event, Mr Craig said "This award is great—not because it flatters the ego but because it's part of a succession process. The old ones acknowledged by the up-and-coming generation … the process of handing down skills, knowledge and experience." Readers will recall that it was about a year ago, we learned Stuart Craig, who has worked on all of the Harry Potter films, was hard at work designing the Astronomy tower for those pivotal scenes in the upcoming Harry Potter and the Half-Blood Prince. We also saw a recent interview on the sneak peek of HBP (no.2) on the DVDs where he discussed his work designing Voldemort's orphanage. Stuart Craig is also the leading design force behind the Wizarding World of Harry Potter theme park currently under construction in Orlando, Florida.
Actress Evanna Lynch attended the Irish Film and Television Awards last night in Dublin, Ireland and you can see new photos of the Luna Lovegood actress here in our galleries.
Fiona Shaw, who portrays Petunia Dursley in the Harry Potter films, will be honored at a special event this week in Hollywood. Fiona and her work in film and on the stage will be recognized at the "Oscar Wilde: Honoring The Irish in Film" pre-Academy Awards party, Thursday, February 21, in Los Angeles, California. On a related note, Fiona Shaw was the subject of a recent special on cable channel Ovation, where it focused on her love of art, and a portrait that was made of the actress. You can watch a short excerpt from this program via this link (select the "Art" tab, then scroll down to where it says "The British Face.")
Finally, as part of the buildup to the Academy Awards, the 16th Annual Art of Motion Picture Costume Design exhibition is open in Los Angeles, and will feature some costumes from Harry Potter and the Order of the Phoenix. Among those included are costumes worn by Umbridge, Lucius Malfoy and more, and is similar to the display we showed you earlier (seen here and here in our galleries.) This exhibit is open now until April 12.