Dan Radcliffe Attends Theater Awards in London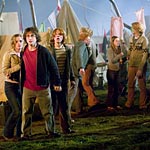 Feb 25, 2008
Uncategorized
Previously we told you a number of actors from the Harry Potter films were winners at the annual Theatregoers' Choice Awards. Those awards were formally presented tonight in London, with actor Dan Radcliffe (Harry Potter) in attendance. Dan was a winner for his performance in "Equus," with Dame Maggie Smith (Professor McGonagall) and Fiona Shaw (Aunt Petunia) also winners for their work on the British stage. For a full list of winners, please click here. At the event tonight, Dan said "I'm truly delighted and thank everyone so much for voting for me. Equus is a tremendous and thought-provoking play and I'm so proud and honoured to have been a part of this incredible production." You can see early photos of Dan at this event here in our galleries, also here via Getty Images.
Also, as reported previously , actress Fiona Shaw was to be honored at a special event held before the Academy Awards in Los Angles. You can see new photos of Fiona receiving her award from the Oscar Wilde: Honoring the Irish in Film" event here in our image galleries.
Congratulations to all!