Six Nominations for "Order of the Phoenix" at Empire Awards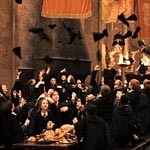 Feb 04, 2008
Uncategorized
The BBC is reporting tonight the "Harry Potter and the Order of the Phoenix" film received a total of six nominations at the upcoming Empire Magazine Movie Awards. The fifth film in the series was nominated for Best Film while actors Dan Radcliffe (Harry Potter) and Emma Watson (Hermione Granger) both received nominations in the respective categories of Best Actor and Best Actress. The film also received recognition in the category of sci-fi/fantasy, where it was nominated for Best Film: Sci-fi/Fantasy. The film's soundtrack, composed by Nicholas Hooper, received a nomination for Best Soundtrack as did David Yates, who was nominated for the Best Director honor. "Order of the Phoenix" leads the pack in overall nominations along with the film "Atonement," who also received six nominations.
The awards ceremony is set for March 9th at the Grosvenor House Hotel in London, England. Comedian Rob Brydon is set to host the ceremony, which will announce the winners as voted by EmpireOnline.com readers and magazine subscribers. The awards ceremony is scheduled to be broadcast on ITV2 Monday, March 10th at 9pm local time.
Congratulations to all at OotP!