Filming Continues at Gloucester Cathedral for "Half-Blood Prince," Video Now Online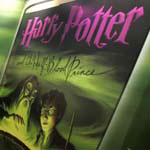 Feb 08, 2008
Uncategorized
UPDATE: There are two new photos now online, of actor Dan Radcliffe and Rupert Grint departing after completing filming. In addition, the BBC has new video of the filming at the Cathedral, including footage of David Yates (who says filming is going really well) and Alan Rickman departing the set. To watch, click here, then where it says "Watch: Harry Potter Filming."
Location filming continues today for Harry Potter and the Half-Blood Prince at Gloucester Cathedral in England. This is Gloucestershire has a new report this morning with some details about yesterday's filming, noting that actors Alan Rickman (Professor Snape), Tom Felton (Draco), Dame Maggie Smith (Professor McGonagall), Rupert Grint (Ron) and Dan Radcliffe (Harry) were on set, however actress Emma Watson (Hermione) did not attend the filming. The paper notes that filming was "taking place in two corridors of the Cathedral's cloisters which double up as corridors from Hogwarts School. A blue screen has been erected in the Cathedral's cloisters to help with computer-generated effects which are added later." The report continues:
A quick look behind the scenes by our reporter revealed crew members apparently busy making magical potions ready for filming. The dark and deadly potions were actually made from "Covent Garden" brand soup into bowls, with different food colourings ready to be added. Yesterday the main stars filmed the first scene and in the afternoon 174 local children, (appearing as extras), were brought onto the site.
We have a large collection of photos from the filming at the Cathedral, here in our galleries. If anyone is attending the filming, please send in your reports and photos which we will post. Editors note: We are having some technical issues with our mail server which we hope to have corrected soon, but in the meantime, you can always reach us via the messenger system in the Leaky Lounge or leave a comment . Sorry for the inconvenience!