Presenting the Leaky Login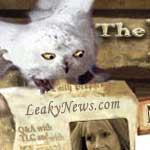 Feb 08, 2008
Uncategorized
We're happy to introduce to you today a brand-new feature from Leaky – the Leaky Login. This is the one, all-purpose login you need around Leaky and our forums – one login gives you access to post on our forum, Leaky Lounge, in our image, video and fan art galleries, and will include many more features in the future, including our main page news comments and other areas to come.
You can log in, now, at the side of any of our pages. By registering for a Leaky Login account you join more than 75,000 fans in an ever-expanding community. It's your one-stop access point to all our different areas, to make commenting and interacting easier than it's ever been.
Remember, if you have a login for any of our galleries or our forum, you already have a Leaky Login, so just enjoy!
All the credit on this one goes to our Super Alex and Nick Poulden. Thank you so much, guys!