PotterCast 142: British Dogs and Fuzzy Hats!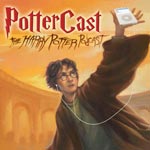 Mar 10, 2008
Uncategorized

Episode 142 of PotterCast, our Harry Potter podcast, is now online
with the latest Harry Potter news and discussion along with return of Canon Conundrums. Melissa, Sue, and Frak are at the helm this week discussing Jo's latest site updates, Helen McCrory filming for "Half-Blood Prince," Ralph Fiennes not returning as Voldemort in HPB, and tabloid rumors on the internet. Bit-by-Bit is next and takes a closer look at the events after Bill and Fleur's wedding. Then, Canon Conundrums makes its return asking the question: What house was Umbridge in? After that, our Scribby5 girls let you in on a new essay online about Horcruxes. Melissa, Sue and Frak then talk about the honor two Jingle Spells songs received from the Wizrocklopedia Awards, a OotP Costume Showcase, and Melissa's participation in the Avon Walk for a Cure for breast cancer. For more information about the walk and sponsorship, you can click here. To listen, just hit the "Play" button on the right side of the page (–>), or use iTunes, or direct download.
"British Dogs and Fuzzy Hats!"
– Dan's dog security woes!
– Hermione shows just how prepared she is for this moment.
-What house was Umbridge in?
РThe trio escapes to a caf̩.
– Discussing the Issue 22 essay "The Peasant, the Tramp and Hepzibah Smith: A Horcrux Case Study"
– "Friends" show trivia.
– Melissa is participating in the Avon Walk for a Cure for breast cancer. For sponsorship information can be found at:leakynews.com/melissawalk
RT: 1:09:14
Editors: Jeff Gregory, Samantha McManus, Liz Turney and Andrew Garner
Scribbulus
LeakyCon 2009: A Harry Potter Conference in Boston
Podcast Alley
Digg
Terminus 2008
Direct download (33 MB).
Direct download low-bandwidth (8 MB).
Remember you don't need an iPod to listen. Listen easily on iTunes, which you can download and install here, by clicking here to listen, or you can just use the streaming Flash player at PotterCast.com or just on the right side of this page. Discussion of the PotterCast is right here. Enjoy!