Magge Smith Diagnosed with Cancer; Prognosis "looks good"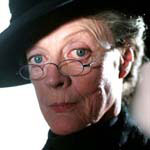 Mar 18, 2008
Uncategorized
The Telegraph has reported today that Dame Maggie Smith, known to Potter film fans as Prof. McGonagall, has been diagnosed with breast cancer. She has had a tumor removed and has undergone a course of chemotherapy; the prognosis "looks good," a friend of hers told the paper.
Everyone on staff at, and, we're sure, reading Leaky wishes this fine actress a double measure of luck and health to counteract this difficult turn of events.
You can write to Dame Maggie Smith at Leavesden Studios:
c/o Harry Potter Production
Leavesden Studios
P.O. Box 3000
Leavesden, Hertfordshire
WD25 7LT
United Kingdom
On a related note, for the past few weeks, have been discussing (on PotterCast) releasing a limited-time "pink" version of our holiday charity album, Jingle Spells, to benefit breast cancer research. As this news highlights that issue through a Potter lens, we would appreciate those who would be interested in buying a copy leaving a comment here so that we could get an idea of how many to order and whether it's a good idea. This would be donated to the Avon Walk for Breast Cancer. (I will be taking part in this walk in October; to contribute to the cause please visit this link.) Our Jingle Spells holiday fundraiser brought in more than $34,000, and the donation has been made to Book Aid (expect a full post on this matter shortly); for this run the blue cover art would be turned pink.
(And PS, if you are still having a problem receiving your holiday order of JS, contact me privately, please, as this post isn't the place to address it. There are probably a few straggling missing orders out there and we want to make sure to get everyone's.)