JK Rowling Writing New Children's Book in Cafes Again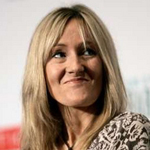 Mar 02, 2008
As readers will recall, author J.K. Rowling has stated several times recently that she is at work on two new projects, one for adults and one for children. The Telegraph has more today on Jo's efforts with the new book for children, with a brief interview where Jo says she is returning again to write in cafes, just as she did writing the Harry Potter series. Quotage:
"I will continue writing for children because that's what I enjoy," reveals Jo, who greatly misses the child wizard. "It's left me with the biggest emptiness in my life." She will, however, leave behind the magical world of Hogwarts. "I believe that it's good for me and good for my readers that I bring myself to work on something different," she declares.
In a search for inspiration, Jo discloses that she has returned to the Edinburgh cafes where she completed her first novel while unemployed and living on benefits: "I am very good at finding a suitable cafe. I blend into the crowd and, of course, I don't sit in the middle of the bar staring all around me. In 90 per cent of cases, it's the cafe's staff who allow me to work without being bothered."
On a related note, the worst sort of Muggles or Death Eaters have been out and about recently, as vandals have apparently made off with one of two plaques at the cafe in Edinburgh, Scotland where she wrote much of Harry Potter and the Sorcerer's (Philosopher's) Stone. The Scotsman reports:
Staff at the Buffet King restaurant on Nicolson Street, which used to be Nicolson's Cafe, said a small brass plaque dedicated to the city author had been taken from the front entrance…One restaurant worker said:"It is only a small plaque and we didn't even know it had been stolen until someone pointed it out to us.We haven't contacted the police about it. It's probably a waste of time for them to even try and find out who stole it."The city's culture leader, Deidre Brock, said: "I am hopeful that it is found and put back soon." The plaque was one of two set up on the street in honour of the writer. The other ' which was unveiled by the Edinburgh City of Literature Trust in 2006 ' is still in place, fixed to the outside of the building.