Updates and New Features on the Leaky Lounge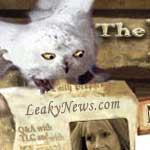 Mar 23, 2008
Uncategorized
Our Leaky Lounge forum has been updated with a few new fun features that came from suggestions by a number of our avid Lounge members and staffers. First, we have a new forum in Jo's Book Nook which allows readers to take a deeper look at a particular novel author J. K. Rowling had mentioned or influenced her in the past. Currently, The Golden Compass/The Northern Lights is the book of choice for this new activity. Join your fellow forum members in reading and discussing this novel in our Book Club today.
Next, we are happy to introduce a new forum focusing on writing. Scrivenshaft's Quill Shop is your one stop shop for advice, inspiration, and discussion on all topics relating to the writing process. Here you can talk about technique, style, and motivation, as well as have any of your questions answered. This forum is for budding writers, authors, poets, essayists, and dramatists to share in their experiences and relate tips and tricks for all.
More fun can be found in the new Predicting the Unpredictable forum, in which members can discuss some of the unanswered questions left in the series after the release of "Harry Potter and the Deathly Hallows." Here you can banter around with others various conundrums such as the materials used to make Dumbledore's wand or the current headmaster of Hogwarts. This forum features a number of other hotly debated questions ready for your input and ideas.
Finally, our Shrieking Shack will also be seeing a few updates soon. In the meantime, come in this weekend after your Easter Egg hunts for some fun and games. You can check out the Shack right here.
If you're not yet a member of our 70,000 strong Leaky Lounge forum, you can join right here and jump in to the fun right away!