PotterCast 141: Oh Frak!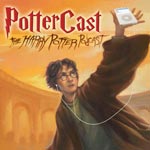 Mar 04, 2008
Uncategorized

Tonight we bring you the 141st episode of PotterCast, our Harry Potter podcast, with none other than Frak subbing for our academically involved John this episode. In the news this week, Melissa, Sue, and Frak talk about Dan Radcliffe's win for his role in "Equus" at the WhatsOnStage Theatre Awards along with awards for his fellow cast members, Jo's continued efforts with the Children's Voice Campaign, Julie Walters being named a Commander of the British Empire, along with much more. We also discuss the new We Are Wizards documentary, which has been accepted to the South by Southwest Film Festival. Bit-by-Bit then features the next section of Chapter 8 of "Deathly Hallows" where we cover Bill and Fleur's wedding and the the return of some past characters. Phoenix Files is next bringing you Harry's first Occlumency lesson with Snape and more. After that, our Scribby5 girls return for more on their latest spoof essays. Finally, we have updates for you on the PotterCast Acting Troupe Auditions, the deadline for which has been moved to March 8th! To listen, just hit the "Play" button on the right side of the page (–>), or use iTunes, or direct download.
"Oh Frak!"
-Half Blood Prince trailer, maybe?
– We Are Wizards documentary.
– More from Bill and Fleur's wedding.
– The purpose of Snape's ˜torture' pack.
– Discussing the spoof essay "CIA ' Secretly copied Deathly Hallows Manuscript to Change Plot Lines."
– PotterCast Acting Troupe Auditions extended until March 8th.
RT: 1:01:47
Editors: Jeff Gregory, Samantha McManus, Liz Turney and Andrew Garner
Scribbulus
LeakyCon 2009: A Harry Potter Conference in Boston
Podcast Alley
Digg
Terminus 2008
Direct download (28 MB).
Direct download low-bandwidth (7 MB).
Remember you don't need an iPod to listen. Listen easily on iTunes, which you can download and install here, by clicking here to listen, or you can just use the streaming Flash player at PotterCast.com or just on the right side of this page. Discussion of the PotterCast is right here. Enjoy!