J. K. Rowling Included on 2008 Forbes Billionaire List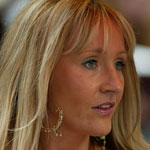 Mar 06, 2008
Uncategorized
Forbes Magazine has released their annual list of the world's billionaires and, once again, Harry Potter author J. K. Rowling has been included as part of their 2008 ranking. Named among the Celebrity Billionaires, Ms. Rowling is the only author on their list. Forbes notes the following:
Once a single mother living on welfare in a cold-water flat in Edinburgh, Scotland, Rowling is now the only billionaire author on our list. The seventh and last installment of her wildly successful Harry Potter series was released last July to throngs of rabid fans who made it the fastest-selling book of all time. More than 11 million copies were sold in the first 24 hours. Feeding the Potter hype machine: The film version of the fifth book came out the same month.
Readers will remember J. K. Rowling made the 2007 Forbes list as well.