New UK Harry Potter PaperBack Set, Half-Blood Prince 2009 Calendar, Cauldron Shop Update and More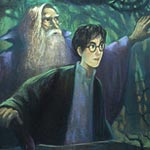 Mar 06, 2008
Uncategorized
We have several updates today regarding some books and merchandise from Harry Potter series.
First UK publishers Bloomsbury have announced that a special new box set of all seven of the Harry Potter books in paperback will be available in October. With a label reading "The Complete Harry Potter Collection," The Bookseller.com reports this set will feature new artwork and will be "the ultimate gift" with a retail price of £59.99. As we reported previously the UK paperback of Harry Potter and the Deathly Hallows will be released on July 5, and is now available for pre-order in our Cauldron Shop. There is still no word on the release date of the US edition of "Deathly Hallows" from Scholastic, and we will update with more on that when we can.
While news on new Harry Potter and the Half-Blood Prince merchandise is still slow in coming, we can report that the wall calendar from the movie will be released on September 1st, and is now available for pre-order in our Cauldron Shop.
Speaking of the shop, we have some updates about items now back in stock and on sale. First, Warner Brothers has lowered the price of the popular Dumbledore's Army messenger bag which is now back in stock; to order click here. Also back in stock are the Honeydukes tin can set, and new are the Noble Collection Harry Potter Broom Pen, as well as the Luna Lovegood Jewelry Set designed by actress Evanna Lynch who portrays the eccentric Ravenclaw student in the Harry Potter films. One last item now back in stock is the Radica Harry Potter 20 questions electronic game.
Finally, as Warner Brothers has announced they will no longer be making and selling their movies in the HD-DVD format in the future (still will be available in Blu-Ray), the company has reduced the prices on the special collectors box set of all five of the Harry Potter DVDs, that comes in the Hogwarts trunk case and contains those extra bookmarks and trading cards; this can be found here in our shop.