PotterCast 145: The Fantastic Four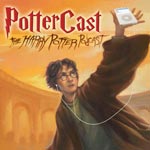 Apr 01, 2008
Uncategorized

The 145th episode of PotterCast, our Harry Potter podcast, is now online featuring a foursome of PotterCast fantastic-ness and the latest installment of "Are You Smarter than John Noe?" In the news this week, we bring you new information on the possibility for a May debut of the "Half-Blood Prince" trailer, a teaser report the Slughorn Christmas party scene in HBP, Harry Potter influences at the university level, Jo presenting a literacy award to prison inmates, and much more. We also have for you an update on the current situation with the Harry Potter Lexicon. Next, four PotterCast listeners match wits with our John Dawlish in a the latest edition of "Are You Smarter than John Noe?" Our Scribby5 girls then return to discuss a number of topics related to their essays and a new contest they have launched. Canon Conundrums makes its return featuring Sue, John, and Frak batting around theories and ideas, trying to figure out which Hogwarts house Alastor "Mad Eye" Moody was sorted into. Finally, John and Frak bring us up to date on their excellent eating adventures in California, the quartet's favorite Jason Isaacs role, and a new contest that allows you buy a real life (virtual) PotterCaster for yourself. To listen, just hit the "Play" button on the right side of the page (–>), or use iTunes, or direct download.
"The Fantastic Four"
– The teaser trailer for HBP.
– HP at University, and College Quidditch teams.
– There is a contest going on at www.scribbulus.com!
– MadEye is in the house.
– Hufflepuff's going for the gold¦ Olympic style!
– John and Frak have been eating their way through Southern California.
– I own you on Facebook.
– And more people that are smarter than John Noe.
RT: 79:12
Editors: Stede Bonnett, Samantha McManus, Liz Turney, and Andrew Garner
LeakyCon 2009: A Harry Potter Conference in Boston
Podcast Alley
Digg
Terminus 2008
Direct download (36 MB).
Direct download low-bandwidth (12 MB).
Remember you don't need an iPod to listen. Listen easily on iTunes, which you can download and install here, by clicking here to listen, or you can just use the streaming Flash player at PotterCast.com or just on the right side of this page. Discussion of the PotterCast is right here. Enjoy!