Radcliffe to Perform "Equus" in NY Fully Clothed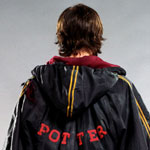 Apr 01, 2008
Uncategorized
We've just had word from Dan Radcliffe's publicist that there's been a change of plans for the New York run of "Equus," slated to begin this September at the Shubert Theater in NYC. The last fifteen minutes of the play usually includes a pivotal scene by Radcliffe, in which his young troubled character reenacts the circumstances surrounding the blinding of six stable horses. The scene is usually played nude, but Radcliffe, responding to concerns raised by parents of young Potter fans when the show played in London's the West End, has announced he has worked with the director to play the scene fully clothed instead.
WB said: "We support Mr. Radcliffe's artistic decision. If he wants to perform fully clothed, we'd never stand in his way."
More on this as we get it!