Welcome, Editor Sybill!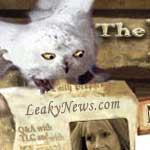 Apr 01, 2008
Uncategorized
For the past few months, we've been thinking a lot about the future of Leaky. We're mostly a news site, so we usually just think about the past – what happened, how did it, how they did it and why they did it. Say it with us – B-O-R-I-N-G!
So, we've brought on a new editor who can help us with the past-tense doldrums. Why just report on the past when you can report on the future?
Please welcome our newest editor Sybill. We interviewed her in a London pub and despite some clear daydreaming and distraction issues, she impressed us. We're sure she'll make her first post around here soon, and from what we hear she'll be setting up a bit of a question-and-answer thread in the forum, so please give her a Leaky welcome when she does!