"Order of the Phoenix" and Emma Watson Receive Nominations at 2008 Constellation Awards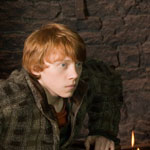 Apr 22, 2008
Uncategorized
The nominations for the 2008 Constellation Awards have been announced and have recognized the "Harry Potter and the Order of the Phoenix" film and actress Emma Watson for awards. First, Miss Watson was nominated in the category of 'Best Female Performance in a 2007 Science Fiction Film, TV Movie, or Mini-Series' for her role as Hermione Granger in the fifth film. The next nomination went to the fifth film for its achievements in costuming in the category of 'Best Technical Accomplishment in a 2007 Science Fiction Film or Television Production.' Jany Temime, the costume designer for OotP, received this nomination for the film.
The Constellation Awards recognizes the best science fiction and fantasy films and television productions of the past year with emphasis on contributions from Canadian companies and performers. Voting has now begun and is open to all Canadian citizens or permanent residents, as well as attendees of the Polaris 21 convention or members of the TCON Promotional Society. Complete information as well as the ballot and submission guidelines can be found right here. Voting ends on June 15th and the winners will be announced at the upcoming Polaris 22 convention during the weekend of July 11th, 2008.
Congratulations to Emma and Jany!