Amazon Contest: Win a Trip to London and Read "The Tales of Beedle the Bard"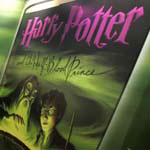 Apr 09, 2008
Uncategorized
Today, Amazon has announced a fantastic new contest that is sure to appeal to the serious Harry Potter fans. The online retailer has announced a new contest to win a trip for two to London, England for the weekend, where you will be able to read the special handwritten "The Tales of Beedle the Bard" by author J.K. Rowling. As readers will recall, the "Beedle the Bard" tales were mentioned Harry Potter and the Deathly Hallows, with Amazon the winner of the charity auction of one of the seven hand written Beedle books by J.K. Rowling. Until now, only photos of the book and short summaries have been revealed.
To enter this contest which is open to people ages 13 years and older from 24 countries around the world, you "must creatively write a short, English-language submission of 100 or fewer words answering one of the following three questions:
* What songs do wizards use to celebrate birthdays?
* What other sports do wizards play besides Quidditch?
* What have you learned from the Harry Potter series that you use in everyday life?
You may enter here at Amazon (US) or Amazon (UK). The contest is open now until April 22, and according to the press release, is open "in two age categories: 13-17 and 18 and older. The contest is open to customers in 24 countries, including the United States, United Kingdom, Germany, Japan, China and Canada.
An Amazon committee will choose 10 semifinalists from each age group based on creativity and originality of idea as well as the writing style of the submission. On May 5, Amazon will post the semi-finalist submissions from both age groups and allow Amazon customers one week to vote for their favorite entry in each of the two age categories. The winner in each age group will move on to become one of two finalists who will compete for the grand prize." In the final stage all will be able to vote for the winner, which will be announced on May 22."
"Customers have been anxious to see, touch and read this rare, unique, and absolutely beautiful piece of literature' said Russell Grandinetti, vice president of books at Amazon. "We're thrilled to be able to offer our customers a chance to head to London, don a pair of white gloves and be one of only a handful of people in the world to have read these amazing tales. And of course, given the rarity of the book, security guards are included." A reminder for those who have not yet seen the photos and summaries of the Beedle the Bard book, you may see them via this link. GOOD LUCK to all who enter!