May Issue of Scribbulus Now Online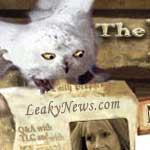 May 01, 2008
Uncategorized
The May issue of Scribbulus, Leaky's premier essay project, is now online with three essays for your reading pleasure. Our twenty-fourth issue features an essay comparing J. K. Rowling's novels to the The Canterbury Tales, an opinion piece on the split of "Harry Potter and the Deathly Hallows" films into two parts, and an essay on the topic of death in the final book. You can find the complete issue, along with an archive of our previous issues, right here. Enjoy!
Chaucer, J.K. Rowling, and All of Us by Fidelia
Harry and his Cloud of Witnesses by Amy Austin-Taggart

In a related note, the winners of our first round of Scribby Awards have been announced. As we told you last month, the Scribbies will be awarded each month in two categories: Readers' Choice and Editors' Choice. This month the Readers' Choice Award goes out to Nimbus1944 for their essay, "An Inconvenient Charm." The Editors' Choice Award goes to two writers this month as we have a tie between Nimbus 1944 for "An Inconvenient Charm" and Rudius Hagrid for "An Excerpt from Curses and Counter-curses." Each winner will receive a special badge for their Leaky Lounge profile. Many congratulations to all!

Our next call for Scribbulus essays is on the topic of family relations. More info on this can be found on the Essay Calls Page. As always, essays on any topic are always welcome.