PotterCast 149: …A History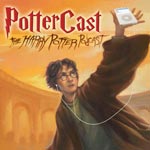 May 01, 2008
Uncategorized

The 149th episode of PotterCast, our Harry Potter podcast, is here tonight with a packed show, a possible Hogwarts professor from Hufflepuff, and a few special guests. First, we have for you news on the now confirmed release date of part one of the "Deathly Hallows" film, an upcoming Harry Potter Exhibition, the "Half-Blood Prince" video game, and a JKR documentary coming to ABC this fall. Canon Conundrums is up next with a discussion which focuses on finding a Hogwarts house for Professor Grubbly-Plank. We then have for you a MailBag segment where the PotterCast quartet and two special guests answer four listener voicemails about the recent WB/JKR vs. RDR Books trail. Our Scribby Five girls are back once again with a segment on the recently published essay from the April issue of Scribbulus. After that, the long awaited Acting Troupe auditions are here in part of one of this ongoing PotterCast feature. Finally, we have for you a Hogwarts rap, an introduction to Frankie Planky, and the first review of Melissa's upcoming book. To listen, just hit the "Play" button on the right side of the page (–>), or use iTunes, or direct download.
"…A History"
– Be there 2010-11-19.
– New JKR documentary will be aired in the fall on ABC.
– To which house does Professor Grubbly-Plank belong? Hufflepuff vs. Ravenclaw.
– We answer your questions about the trial in the MailBag.
– Acting troupe auditions: Part 1.
– Contradictions, contradictions and more contradictions!
– This month the Scribby ladies discuss an article in the Quibbler written by Xenophilious Lovegood.
– An impartial review of Melissa's book.
RT: 75:04
Editors: Stede Bonnett, Jeff Gregory, Samantha McManus, and Andrew Garner
LeakyCon 2009: A Harry Potter Conference in Boston
Podcast Alley
Digg
Terminus 2008
Direct download (34 MB).
Direct download low-bandwidth (9 MB).
Remember you don't need an iPod to listen. Listen easily on iTunes, which you can download and install here, by clicking here to listen, or you can just use the streaming Flash player at PotterCast.com or just on the right side of this page. Discussion of the PotterCast is right here. Enjoy!