PotterCast 150 and the Unsung (Unvoiced?) Heroes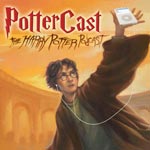 May 05, 2008
Uncategorized
Today we celebrated our 150th Harry Potter podcast, PotterCast, and instead of a big celebratory show we decided on a celebratory post. It takes a village of house-elves to make this show go, and the ones who you rarely, if ever, hear on the show are who we celebrate today.
(Thanks to Frankie "Frak" Franco for the excellent drawing!)
It's hard to believe this show has lasted this long with such enthusiasm and hard work behind it. You may hear only a handful of voices on the show each week, but behind each one of those voices are many equally important contributors to the show who don't get nearly the attention their work merits. So let's thank our non-vocal PotterCast talent:
First, our transcription team, who work their fingers down each week:
The Transcription Elves: Abbey, Alysia (Starlysh), Amber (ladymadaysia), Candace (freedomstar), Catherine (words of wisdom), Delana (Overcast), Jeff (JeffHpFan), Joan (Chinagrrl), Josh (always_a)sidekick), Kate (mugglebornkat), Kayla (bubblehead), Kelli (eponine244), Lily (MissJubilee), Lisa (bitznbats), Maryann (SusannaMio), Melissa D. (FelixFelicis1980), Pascal (nebka), Patty (theleakyflasher), Quinn (nrossi), Sarah W. (Poet), Shawna (dumbledore18).
The Proofers: Corena (lilinferi), Delana (Overcast), Leah (Padfoot4Eva), Maryann (SusannahMio), Melissa P. (mollymom)
Our coder, Sarah (stampsgal) and finalizer Doug (BigD)
The Witchy Helpers: Kimmers (flipendo) and Kimberley (kimpopo)
Our Elf Manager Stephanie (StephanieElf) and elf managers emeritus kadi, kimmyblair, sunnyelf and kimmparker.
Next, our PotterCast editors: Stede Bonnett, Andrew G., Jeff Gregory, Samantha and Liz T.
And last but certainly not least, all of you who are still listening and come to our live shows. 150 shows ago we would have never thought that you'd still be downloading the show now, so thank you! Everyone mentioned here deserves a huge round of applause; thank you all, it honestly would not be PotterCast without you.
Here's to another 150!