PotterCast 150: Every Week for Ten Years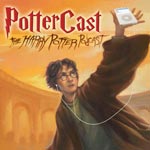 May 05, 2008
Uncategorized

PotterCast, our Harry Potter podcast, is now online with its 150th episode of Harry Potter news and discussion. First up in Sue's news, we update you on photos of the Harry Potter theme park that have appeared online, Emma Watson's interest in the "Napoleon and Betsey" film, the casting of Alecto Carrow in HBP, and the Harry Potter novels no longer appearing on the NYTimes Best Sellers List. A new edition of Canon Conundrums follows with a discussion on Madam Pomfrey's Hogwarts House affiliation along with another Ravenclaw vs. Hufflepuff showdown. Bit-by-Bit is up next finishing off the second half of Chapter 11 of "Harry Potter and the Deathly Hallows" where we find out more about Albus Dumbledore's family. After that, the men take the stage in the latest installment of our Acting Troupe auditions. Finally, the PotterCast Quartet reveal their wand cores, talk a little more about the Acting Troupe, and being to take a stroll down memory lane. To listen, just hit the "Play" button on the right side of the page (–>), or use iTunes, or direct download.
"Every Week for Ten Years"
– The quatro presents a new feature; Crafty Friends!
– HP books will fall off the NYTimes bestseller list after nearly 10 continuous years.
– Sue says Ravenclaw or Hufflepuff ' make that Ravenpuff!
– Becoming a healer requires you to be ˜E'xceptional all-around.
– We meet the Dumbledore family.
– More acting troupe auditions.
– We talk wands with our Trio+1.
– Find your perfect wand right here!
RT: 59:47
Editors: Stede Bonnett, Jeff Gregory, Samantha McManus, and Andrew Garner
LeakyCon 2009: A Harry Potter Conference in Boston
Podcast Alley
Digg
Terminus 2008
Direct download (34 MB).
Direct download low-bandwidth (9 MB).
Remember you don't need an iPod to listen. Listen easily on iTunes, which you can download and install here, by clicking here to listen, or you can just use the streaming Flash player at PotterCast.com or just on the right side of this page. Discussion of the PotterCast is right here. Enjoy!